Welcome
We're Smith & Sons Hamilton and we're your local building and renovation specialists. With more than 30 years' experience in the building industry we have the skills and expertise to make your renovation project a success.
Our team, headed by owner and qualified builder Charlie Robinson, can work with you right from the first stages of refining your ideas into a workable design. We're able to use our experience to suggest improvements, solve problems and help you stay within budget. We can manage all the other stages of the process too – including plans, obtaining consents, project management and construction.
We're passionate about getting your job done right the first time, so you get to enjoy the rewards as soon as possible. We'll provide a team of reliable, respectful and skilled people to work on your home and take care of all the co-ordination needed to keep your project on track.
So whether you're adding another storey, extending to the side, creating a portico, updating your kitchen/bathroom, altering the interior layout or recladding your whole home – we're the team you need.
Call Smith & Sons Hamilton today to see how we can help you create the home of your dreams.
Awards
NZ Franchisee of the Year North Island 2018
15 Million Dollar Turnover 2018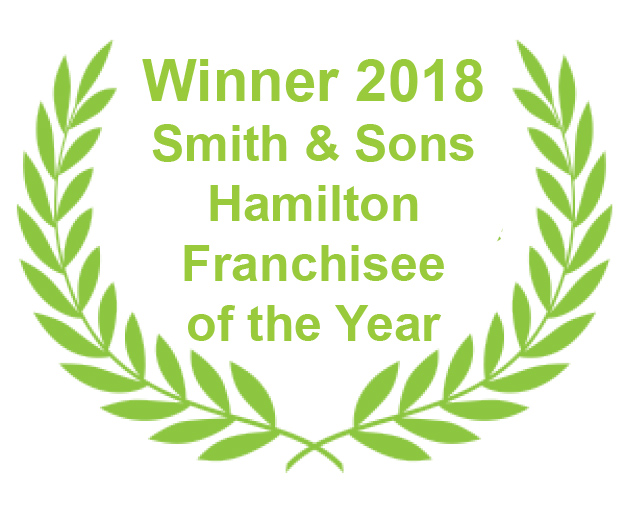 About Us – Smith & Sons Hamilton / Waikato
The Smith & Sons Hamilton franchise is owned and operated by Charlie Robinson of Robinson Builders. Charlie is a multi award winning builder with more than 30 years experience in the industry. His building knowledge enables him to understand the commitments required by a builder and owner in order to make the renovation process an enjoyable and successful experience. He prides himself on the quality workmanship he delivers and the positive client feedback his team continue to receive.
As a full service renovation specialist we use a 3 step process to help you Design, Plan and Construct the right renovation for your home and your budget. From conception to completion; the aim is to provide support, expertise and communication to ensure your dream comes true.
Smith & Sons Hamilton opened in 2008 and is one of more than 25 offices across New Zealand.
Our Area – Hamilton and Surrounds
Smith & Sons Hamilton provides renovation design and build services throughout the Hamilton and Waikato area including;
Hamilton
Cambridge
Morrinsville
Pukete
Te Rapa
Flagstaff
Huntly
Melville
Tamahere
Te Awamutu
Matamata and more..
What We Do
If you're considering a home renovation we can help – right from the start. By talking to us at the design stage of your project we can offer practical advice to help you achieve your wish list while keeping to your budget.
Once your design is agreed we can also assist with getting the right plans and consents. Then we'll get construction underway -co-ordinating all the necessary trades and inspections for you.
Working with Smith & Sons Hamilton you'll have a consistent point of contact throughout and enjoy the confidence that comes from knowing your home is in good hands.
As renovation specialists we complete a wide range of building projects including;
Residential extensions and alterations – design and build
Adding a storey/basement conversions
Recladding
Total home makeovers
Outdoor living areas – porticos, pergolas and decks
Kitchen & bathroom renovations
House relocation
Unit and apartment renovations
We are happy to assist with all stages of the renovation process including;
Ideas & Design
Projects usually start with an informal meeting to discuss a wide range of ideas, your project goals and intended budget. Whether you engage an independent Architect/Designer or work with us in-house; we assist with all facets of this stage – balancing cost efficiencies with creative flare.
Plans, Drawings and Permits
As a part of the consulting process, we liaise with you and the Architect/Designer (engaged by you or in-house) to ensure a cost efficient and practical approach to resolving any site issues or special requirements. We deal with all the Industry standards along with Council requirements and specifications.
Quotation, Budgeting & Cost Analysis
Once concept plans are produced, our in-house costing team source the best quotes and products to calculate a very comprehensive cost assessment for your project. This approach to pricing each job ensures you get an honest and realistic estimate of the cost of your project.
We have a hand-picked team of dedicated Suppliers and Contractors who we work with to ensure the best prices, services and delivery of goods for each project. We bring all these together in a Cost Assessment designed to offer you confidence and information.
Construction & Project Management
Liaison between the Designers and on-site sub-trades is all part of our service. Regular updates and information flow between all parties keeping you up to date with progress. Planning and managing is simple and easy with the management systems we have in place.