Home Renovations Auckland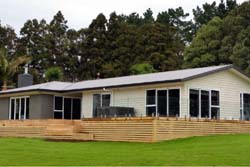 Smith & Sons Auckland Central West, owned by Ben Mullane, are your local builders specialising in quality home renovations from concept to completion. Using
a simple 3 step process
, we work with you through your whole renovation project – from initial the designs, through the planning and consents processes, to final handover of your finished project.
We use only fully qualified, licenced builders who with the local knowledge and building experience do a great job working on your home. Ben's strong planning, project management and problem solving skills will help keep your renovation on time and on budget.
Smith & Sons Auckland Central West can help with all kinds of home renovations, alterations and extensions – from kitchen and bathroom renovations, to basement or attic conversions, interior reconfigurations, adding a bedroom or even adding another storey to your home. Our skilled team can also carry out commercial fit out work, exterior recladding, construct great outdoor living areas or handle your new build project from start to finish.
Based in Auckland we're proud to renovate homes in the suburbs of Avondale, Mount Roskill, New Lynn, Blockhouse Bay, Hillsborough, New Windsor and Three Kings.
Through our commitment to great communication, professionalism, quality systems and excellent workmanship we aim to make the renovation process as stress free as possible. So, if you'd like a reliable team to handle your project from plans, to consents, to construction completion, contact us today.
How to Plan Your Home Renovations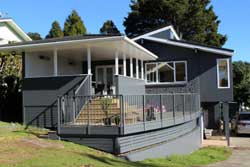 Renovating your home is an incredible way to make improvements to your property. You could fall in love with your home again or increase the rental value of your property by giving it an update. Some people find that they are immediately overwhelmed by the idea of home renovations. It can seem like a lot of work, and you have other things that require your attention.
Smith & Sons Auckland Central West is here to make it all seem less scary, and your property will have a brand new look before you know it. From extensions to new kitchens, we will help you realise any vision you might have. We can help you flesh out that vision too if you're not sure what you want yet.
Start planning your home renovations by following these steps.
Consider Your Wants and Needs
Begin by thinking about why you want to renovate. You don't need to know exactly what you want yet, but it's a good idea to understand your motives for renovation. Have you recently purchased a property that needs some TLC? Maybe you want to create some more living space in your home. You might want to bring parts of your home up to date, or perhaps your family is about to get bigger, and you need to adjust. What are your wants and needs for your renovation?
Work with Smith & Sons to Turn Ideas into Plans
Our three-step process helps to make the process of renovating your home a whole lot easier. Work with us to design your new home, then let us take care of everything else. During the design process, we can help you turn vague ideas into more concrete plans. We work closely with you, listening to your wants and needs to come up with solutions. You might only begin with a germ of an idea, but we help you turn them into full working plans. We visit your home to take a look at what we have to work with and the potential that your property holds. We check what's possible on the technical front and help you to choose a design that you love, before creating an estimate for the budget.
Let the Experts Take Care of the Technical Stuff
The technical side of planning a renovation is often what frightens many homeowners. You might have a few creative ideas, but you have no idea how to turn it into a technical plan. And once you have a design that's ready to work from, you also need to take care of things like securing council approval and scheduling the renovation. When you work with Smith & Sons Auckland Central West, we can take care of all of this for you. You can concentrate on watching the progress of your project while we sort out all the complicated stuff. Your renovation shouldn't be stressful, and there's no need to make it any more complicated than necessary.
Get in touch with us to start discussing your home renovation project today.
Smith and Sons Auckland Central West is owned and operated by Ben Mullane.
Ben is a fully qualified builder and Licensed Building Practitioner. Having many years of experience in residential and commercial construction, Ben has gained the knowledge and expertise in the building industry to make your next project a success.
Central West Auckland boasts a range of property from classic bay villas, luxury apartments, modern townhouses and commercial developments. The Central West Auckland area is highly desirable for professionals and families. Property owners and investors alike are adding value to their assets through renovation or redevelopment. As renovation specialists with local knowledge of the local property market, Smith & Sons Auckland Central West can advise you on the likely cost of investment and potential capital return of your renovation projects, whilst guiding you on likely pitfalls and what to avoid, preventing over capitalisation in a project.
So, if you are looking for a builder with local expertise for your next project in Avondale, Mount Roskill, New Lynn, Blockhouse Bay, Hillsborough, New Windsor or Three Kings, give Smith & Sons Auckland Central West a call.
Smith & Sons Auckland Central West offer a full range of property renovation services including:
Alterations and additions
Extensions
Basement or loft conversions
Adding a storey
Kitchen renovations
Bathroom renovations
Redesign of interior spaces
Total home makeovers
Decks and outdoor areas
Villa restoration
Property maintenance
Retail fit outs
With a dedicated project manager working on your renovation, we strive to keep you fully informed throughout each of the design, planning and construction stages, whilst delivering exceptional results on time and to budget.
Let's start the conversation, call Ben Mullane today on 0800 764 846.